Published by: Digital Schools
The Spider Diary – Part 2: Red Mites & Brilliant Eyes
Who, whom, was this gorgeous spider lady? And how is it she seems to see me?. In a swift instance, the sight of the lady jumping spider had sent the blues away. And we sat in equal curiosity, eye to eye…


Part:2
She had big round eyes, banded color on a cream-colored body, and fuzzy mitten pedipalps that waved up and down at me. Her back body was long and tear-shaped and extended straight back, her head was
helmet-shaped and hard. Her eyes sat round and noticeable atop her head, iridescent little marbles that flashed and changed like chameleons shift. She was gorgeous and seemed very interested in me too.
She bounced down the garden wall to get a closer look at me, moving her head side to side to take me in with all of her eight eyes. On deciding I must be alright, she bounced back up to her home, a leafy hideaway where she could peer out without being noticed too easily.
I peered inside her little tiny world and saw this lady spider was soon to be a mother. I saw a bundle of silk and unhatched babies in her nest, and I am sure she seemed a little bit nervous and bid closer to her cluster while I looked. So I gave her a little space.
Maureen, the little jumper spider, pocked her head back out, hopped onto the leaf above and I watched her curiously examine a red spider mite that seemed to be her buddy.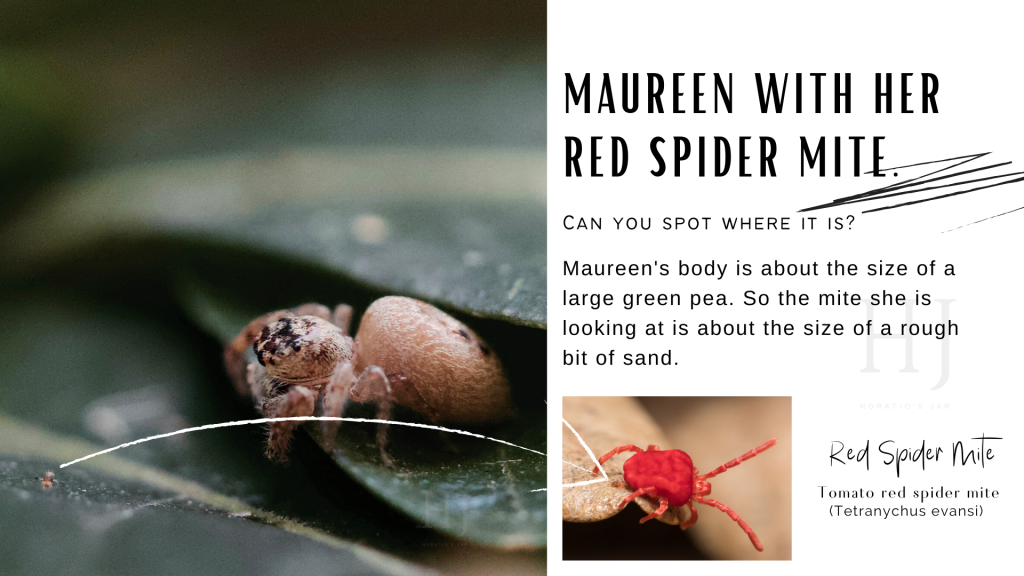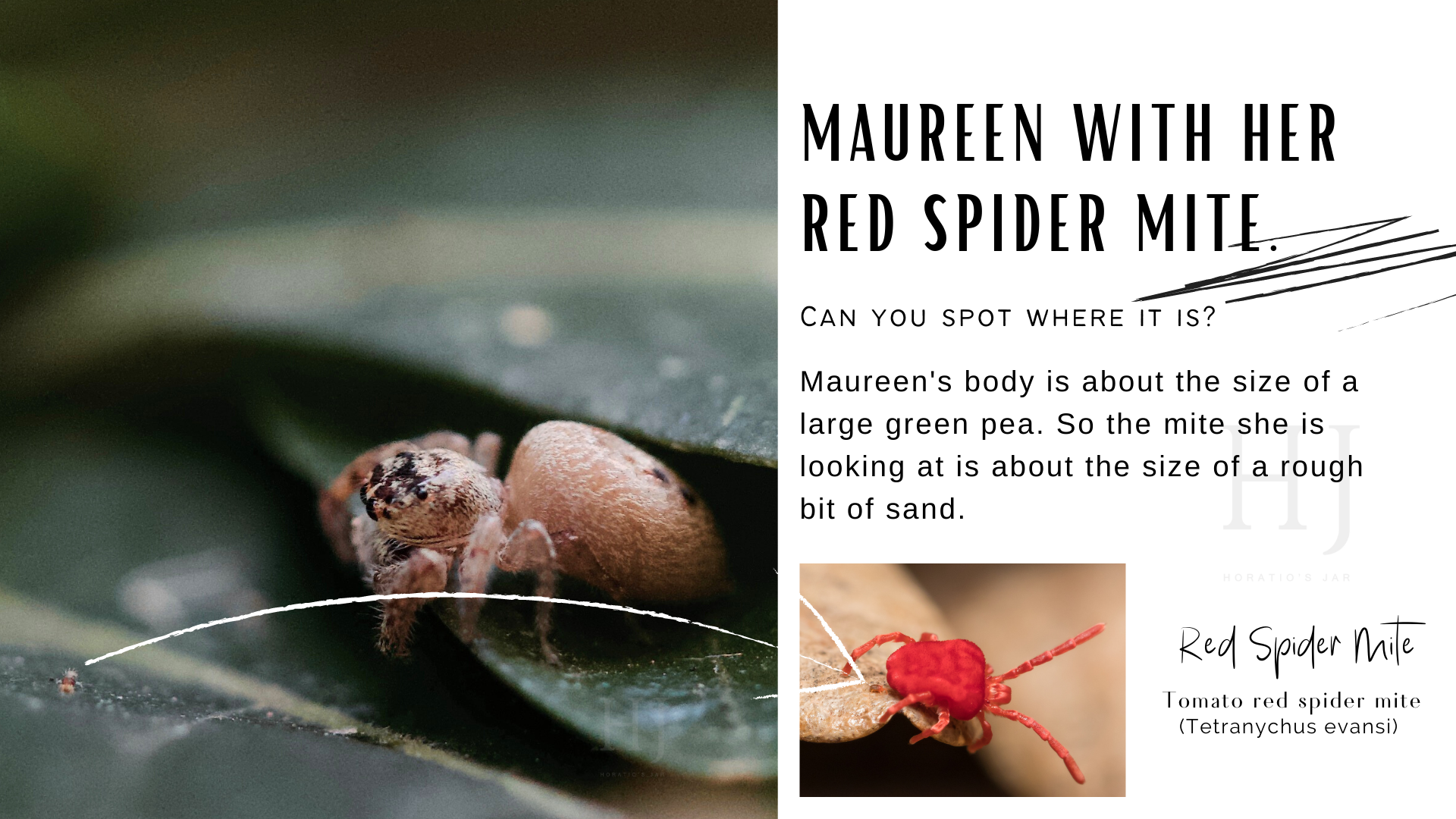 She looked at this pin tip-size critter and took it in. She popped and sprung to different stories in her canopy of leaves, and her red mite followed. At one point, Maureen stopped and scratched behind what would be where ears should be, and it was honestly no different from watching a dog scratch its flees; it was too cute.
Watching her had me wonder, was Maureen's red mite a friend or an irritation?. The way she looked so curiously and so intently at the microdot of red was so un-spider-like.
It was so unique.
I also wondered exactly how well can she see?
To be continued.
Guest Contributor: Emily Rack
Business Name: Horatio's Jar
Publisher: Digital Schools
Emily Rack is a  freelance creative writer and researcher, visual content creator, and designer. She is the head of the content production, publication – and editing for Upschool+ Guest Contributors -, and Horatio's Jar is her content production agency and wellbeing school. 
 Emily has dedicated her life to researching and understanding matters of the mind, body-, and the human experience. Her discoveries and research are focused on cultivating tools and dialogue that encourage us to live in peace and harmony here on earth.
Her current focus is the environment and human connectivity, conservation, environmentalism, plant medicine, botany, biology-, and the practice of 'Nature Bathing'.  Emily is a writer, digital content creator, seasoned photographer-, and visual artist.
——-
PUBLISHER'S DISCLAIMER: The publisher of this blog post (Digital Schools PTY LTD) works in partnership with the school as a 3rd party provider to help build and maintain the school website. Digital Schools sources a range of experts who provide products and/or services to educational institutions and we work with them to produce and publish topical information in the form of blog posts that we think  may be relevant, interesting or topical to families within the community. The views, opinions and content listed in this blog post are that of the guest contributor and/or publisher (Digital Schools). It should be noted that whilst the publisher and guest contributors are acting with the best intentions and in the best interests of the school and their community to provide helpful or interesting information, sometimes the content may not necessarily reflect the views of the school.
The information in this blog post is not meant to be used, nor should it be used, to diagnose or treat any medical condition. For diagnosis or treatment of any medical problem, consult your own physician.  The school and the publisher of this blog post  are not responsible for any person reading or following the information in this article who may experience adverse effects.
Any references to external websites or sources are provided for informational purposes only and do not constitute an endorsement by the school or publisher in any way and the publisher and/or school cannot guarantee the accuracy of the information listed.
If you have feedback on any content on this platform, you can submit it to the publisher using the feedback link provided at the bottom of this page.